May 7, 2022
7:30 PM
Princeton University Chapel
Princeton, NJ
May 7, 2022
7:30 PM
Princeton University Chapel
Princeton, NJ
Click above to listen to the Director's Notes
Use Up/Down Arrow keys to increase or decrease volume.
DIRECTOR'S NOTES
Now that we're back in the Princeton University Chapel, at long last, I'm delighted to be able to present Shout for Joy. Two years on, the music on this program feels more urgent than ever, as it creates space for consolation and renewal in Duruflé's Requiem, and an opportunity in the works by Ešenvalds and Hailstork to shout out our unfettered joy in being able to make music together again, for you.
I've always loved this time of year, when the light of the sun, glowing warmer and fuller with each passing day, empowers the renewal of life all around us. For as long as the sun has warmed our existence, the parallel binaries light-dark and life-death have had psychic, spiritual, and symbolic significance. It comes as no surprise that imagery and symbolism of light and dark pervade sacred and secular myth from the sun deities of polytheistic pantheons to Star Wars. Homer's Odyssey imagines the gods' home, Olympus: "Here no wind beats roughly, and neither rain nor snow can fall; but it abides in everlasting sunshine and in a great peacefulness of light, wherein the blessed gods are illumined for ever and ever." Light imagery appears in countless Christian texts. The fourth-century Bishop of Milan, Ambrose, wrote in De Bono Mortis ("On the benefit of death"):
We shall go…where there are no clouds, no thunderbolts, no lightnings, no windstorms, nor darkness or evening, no summer or winter will change the weather, no cold, no hail, no rains...there will be no need of this sun or the moon and there will be no stars: just the glow of God will shine.
Just as Homer and Ambrose imagined godly glow undimmed by encroaching darkness, the authors of the Roman Catholic Requiem (Mass for the dead) envisaged the soul's repose in a paradise of eternal rest (requiem aeternam) where perpetual light (lux aeterna) bathes the company of saints in its everlasting warmth. Of the various musical works that convey that lux, I can think of few whose musical characteristics do so more beautifully than the Requiem setting by the 20th-century French composer Maurice Duruflé.
Most prominent among these characteristics, perhaps, is melody. Duruflé spent his childhood learning and working in the cathedral of Rouen, and his Requiem incorporates the ancient melodies that underpinned his day to day activities—mystical liturgies carried on the supple contours of the Gregorian chants filling the cavernous, perfumed interiors of its Gothic structure. Whether sung note-for-note by the choir, presented as a cantus firmus by the orchestra, or merely implied, the ancient plainchant melodies of the Requiem Aeternam guide the entire composition. Duruflé brilliantly bends all musical parameters towards their essential qualities, taking great care, for instance, in his words, to "reconcile . . . the Gregorian rhythms . . . with the demands of modern meters," so that the flowing quality of chant suffuses the whole.
His handling of the other musical elements demonstrates similarly consummate craft. Just as waves of light passing through the prismatic glass of Sainte-Chapelle or bouncing off the opalescent oils on Monet's canvases refract into dazzling arrays, the waves of sound summoned by a performance of Duruflé's score reflect a rich palette of harmonic colors. The modal harmonies arising from the plainchant foundation of the Requiem, lacking strong leading-tone tendencies, allow sonorities to shift kaleidoscopically, one into another, unresolved. The opening of the work, for example, doesn't proclaim a major or minor key, as a curtain-raising overture might. Rather, the Dorian mode seems to emerge like incense, as the noodling viola and cello lines slide past and over each other, curling around the smooth arcs of the tenor and bass melody. Duruflé blends brilliant organ registrations and imaginative scoring for strings, trumpets, timpani, and harp into all sorts of shades and timbres.
To those familiar with Classical- and Romantic-era Latin Requiem settings, Duruflé's may appear incomplete. The Dies Irae sequence, whose vivid depictions of the soul's judgment on "that terrible day of wrath" famously begat the thundering drums, shrieking piccolos, and obstreperous brass of Verdi's and Berlioz's Requiems, is absent. Duruflé left it out, save the last stanza, the sweet Pie Jesu, which he sets for mezzo solo and cello. Judgment Day turns up within the Libera Me's plea for deliverance ("Deliver me, O Lord, from death eternal on that fearful day"), and Duruflé capitalizes on the dramatic potential of the text's shift to first-person by scoring it for baritone solo, urgently but not theatrically. While other Requiems end with the Libera Me's lingering uncertainty, Duruflé appends an In Paradisum, whose text, bidding the angels receive the soul in paradise, offers assurance—and symmetry, ending the work on the same word with which the opening Introit began: requiem (rest).
This is not to say the Requiem lacks musical heft or ignores earthly concern. Duruflé powerfully deploys brass, organ, and timpani to marshal sumptuous climaxes in the Sanctus, and the "deliver them from the lion's mouth" outcry in the Domine Jesu Christe and evocation of terror in the Libera Me are potent. He clarified:
This Requiem is not an ethereal work which sings detached from worldly anxiety. It reflects, in the unchangeable form of the Christian prayer, the anguish of man facing the mystery of his last ending. It is often dramatic, or filled with resignation, or hope, or terror, like the same words of the scripture used in the liturgy. It tries to translate the human feeling in front of their terrifying, inexplicable or consoling destiny. It represents the idea of peace, of faith, of hope.
The distinctive nature and emphasis of the work crystalizes in its final movement—a soundscape of sublime radiance and tranquility—a reverie, almost, conspicuously unafraid of hell and eternal damnation. (How different a last impression from the fearful muttering soprano in the final seconds of Verdi's Requiem!) Duruflé calls his In paradisum "the ultimate response of faith to all the questions by the flight of the soul toward paradise."
Faced with the long nights of winter, the pangs of loss and grief, or horrendous brutality and violence darkening humanity around the globe, we might hope for light—physical or spiritual. Rarely is it manifested more effectively than in this jewel of a Requiem.
Of the newer compositional voices on the scene in the last two decades, one of the freshest and—quickly—most beloved is that of the Latvian Ēriks Ešenvalds. Several seasons ago, Princeton Pro Musica delved into his multilayered, mystical work Passion and Resurrection. The Te Deum on today's program is something entirely different. From 2011 to 2013 he was Fellow-Commoner at Trinity College, Cambridge, where he worked closely with that institution's top-notch choir and its director, Stephen Layton. During that period, he refined and distilled his already-appealing musical style into something even more direct and affecting. I appreciate composer Gabriel Jackson's summation: Ēriks Ešenvalds is a dreamer, he gazes up and dreams—of eternity, of paradise, of that better world onto which music can offer a magical window, and he shows us that better world with rare beauty and spiritual integrity.
The jubilant Te Deum we're featuring on Shout for Joy was written for the installation of a new master at Trinity College, Cambridge, and is, in Ešenvalds' estimation, a "re-imagining of an Anglican tradition, that of ceremonial music for a grand occasion." Insistent brass fanfares, rumbling timpani, sweeps of harp strings, and big splashes of sound from choir and organ alike herald something grand, indeed. But Ešenvalds beautifully counterbalances the bombast in the extended middle section, which nestles a beguilingly simple tune in a lulling harp ostinato atop a pedal tone in the organ.
The American composer Adolphus Hailstork recently celebrated his 80th birthday. Over the course of his career, he's enriched the repertoire of a variety of genres, from opera and symphony to chamber music and choral works, with expertly crafted compositions. And he's still active! A new requiem cantata, A Knee on the Neck, written in response to the killing of George Floyd, premiered several weeks ago. The Los Angeles Philharmonic premiered a new orchestral piece in 2021, after which conductor Thomas Wilkins deemed him the "dean of African American composers."
It's hard to describe his musical style definitively using a word or two. He admits: "I'm pretty eclectic; I'm multistylistic. All the names you want to use, they all fit." He elaborated in an interview:
I like to tell people that I'm a cultural hybrid and sometimes it's agonizing. Sometimes I feel like I was hanging by my thumbs between two cultures. And then I just said to myself — after years of this, I said: Look, I accept myself as a cultural hybrid, and I know I have trained in Euro-classical skills and I also am very interested—and since I went to school in an African American college—I am aware of that culture too. And I use them both.
Our program features "Shout for Joy," an exuberant festival anthem for choir, brass, strings, organ, and percussion that draws inspiration from Hailstork's early training as a choirboy in an Episcopal cathedral. He mused: "Thirty years ago, or so, it dawned on me that I was strongly influenced by my experience in the cathedral, and I started piano there, I learned organ there, I learned to read music there. And the cadences, the melodic inflections, etc. were very strongly influenced by that." He recalled, of "Shout for Joy," in particular:
We used to have choral festivals at the cathedral [like the ones that have been traditional in England since the 1700s] where the boys and men's choirs from Toronto, and another one in Albany, [would] all get together and have these fantastic choral programs that would start off with fanfares with brass and timpani and all of that, and then we'd do these big choral anthems. And that's exactly why I subtitled that piece "The Bank Street Festival Anthem," because it was directly influenced by my experience as a kid in the cathedral.
These second and third pieces on the program today are grand, festive pieces for celebration. What occasion are we marking? What are we celebrating? I, for one, can think of no more uplifting capstone to the season and to the return to live music making than this: to gather in such a magnificent space, open our ears and minds to each other, feel this music shake our bodies with acoustic power and stir our hearts with grandeur, and experience a collective moment, as a community.
Princeton Pro Musica Chorus & Orchestra
Ryan James Brandau, Artistic Director
Margaret Lias, Mezzo-Soprano
Dominic Inferrera, Baritone
Eric Plutz, Organ
Requiem
Maurice Duruflé (1902-1986)
Trinity Te Deum
Ēriks Ešenvalds (b. 1977)
Shout for Joy
Adolphus Hailstork (b. 1941)
Soloists

Mezzo-soprano Margaret Lias has been celebrated for her "warm," "arresting," and "rich-toned" singing. Margaret made her Boston Symphony Hall debut in 2011 with Handel & Haydn Society (Handel, Israel in Egypt). In 2017, she received praise for her Cleveland Orchestra solo debut singing Stravinsky's Threni. Select solo appearances this season include Schola Cantorum of Boston (Bach, St. John Passion), Andover Choral Society (works by Vivaldi and Spaneas), Emmanuel Music (Bach, Magnificat), Princeton Pro Musica (Duruflé, Requiem) Upper Valley Baroque (Bach, Mass in B minor), and the Hartford Symphony Orchestra (Beethoven, Symphony No. 9 in D minor, Op. 125 "Choral").
Margaret's versatility as a singer allows her the opportunity to collaborate with other soloists to perform master choral works at a very high level, easily transitioning from medieval and baroque music to classical, romantic, and contemporary repertoire. Margaret was a founding member of The Skylark Vocal Ensemble under Matthew Guard. She has performed frequently with Seraphic Fire under Patrick Dupré Quigley, Boston Baroque under Martin Pearlman, Voices of Ascension under Dennis Keene, and Emmanuel Music under Ryan Turner. A supporter of Anglican liturgical music, Margaret has been a sought-after cantor for events such as bishop consecrations, clergy ordinations, and worship services in major cathedrals and churches in the US and abroad. June 1, 2020 marked the start of Margaret's process toward ordination to the diaconate in the Episcopal Diocese of Massachusetts. Margaret belongs to Beyond Artists, a coalition of artists that donates a portion of its concert fee to organizations they care about. www.margaretlias.com

Baritone Dominic Inferrera has enjoyed acclaim in giving voice to opera, oratorio, musical theater, pop, jazz, and contemporary music. As The Son in Hugo Weisgall's Six Characters in Search of an Author with Opera Festival of New Jersey, The New York Times proclaimed him a "standout." His performance of Young (Old) Button in John Eaton's operatic adaptation of "The Curious Case of Benjamin Button" at Symphony Space in NYC was hailed by the New York Times as "dynamic." Other roles include The Celebrant in Bernstein's Mass with the Cornell University Theatre, Escamillo (Carmen) and Silvio and Marco (Pagliacci/Gianni Schicchi) with OperaDelaware, Masetto (Don Giovanni) with Toledo Opera and Annapolis Opera, Lescaut (Manon Lescaut) at Opera Memphis, Guglielmo (Così fan Tutte) with Capital City Opera, Moralès (Carmen), Wagner (Faust), Marquis (Traviata), and Maggiordomo (Vanessa) with Opera Festival of New Jersey, Escamillo with Union Avenue Opera, The Swineherd in John Harbison's A Full Moon in March with Encompass Opera Theater, Aeneas (Dido and Aeneas) with the Greenwich Village Singers, and Castro (Fanciulla) with New York City Opera.
Mr. Inferrera's concert repertoire includes Orff's Carmina Burana, Finzi's In Terra Pax, Vaughan Williams' Fantasy on Christmas Carols, Fauré Requiem, Duruflé Requiem, Brahms' Requiem, and Handel's Messiah with Princeton Pro Musica, Monmouth Civic Chorus, Burlington Symphony (VT), Choral Society of the Hamptons, Greenwich Village Singers, and American Classical Orchestra, and Pontius Pilate in Brooklyn Academy of Music's critically acclaimed St. Matthew Passion. Dominic has performed with the Meredith Monk Ensemble, Mark Morris Dance Group, and pops appearances with Indianapolis Symphony, Cincinnati Pops, Naples Philharmonic, Ocean City Pops, Colorado Symphony, New York City Opera, and Seattle Symphony. Recordings include the acclaimed Orpheus and Other Works by composer Louis Karchin, Arnold Rosner's Songs of Lightness and Angels, and Eaton's "The Curious Case of Benjamin Button" on Albany Records.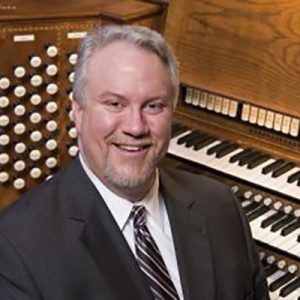 See the profile page for organist Eric Plutz here.
TEXTS
Requiem   Maurice Duruflé
Original Text

I. Introit

Requiem aeternam
dona eis, Domine,
et lux perpetua luceat eis.
Te decet hymnus, Deus in Sion,
et tibi reddetur
votum in Jerusalem;
exaudi orationem meam,
ad te omnis caro veniet.
Requiem aeternam
dona eis, Domine,
et lux perpetua luceat eis.

II. Kyrie

Kyrie eleison,
Christe eleison.
Kyrie eleison.

III. Domine Jesu Christe

Domine Jesu Christe, rex gloriae,
libera animas omnium fidelium
defunctorum de poenis inferni
et de profundo lacu.
Libera eas de ore leonis,
ne absorbeat eas tartarus,
ne cadant in obscurum.

Sed signifer sanctus Michael
repraesentet eas
in lucem sanctam,
quam olim Abrahae promisisti
et semini ejus.
Hostias et preces tibi, Domine,
laudis offerimus.
Tu suscipe pro animabus illis,
quarum hodie
memoriam facimus,
fac eas, Domine,
de morte transire ad vitam
quam olim Abrahae promisisti
et semini ejus.

III. Sanctus

Sanctus Dominus Deus Sabaoth,
pleni sunt coeli
et terra gloria tua.
Hosanna in excelsis!
Benedictus, qui venit
in nomine Domini.
Hosanna in excelsis!

V. Pie Jesu

Pie Jesu Domine,
dona eis requiem sempiternam.

VI. Agnus Dei

Agnus Dei, qui tollis
peccata mundi,
dona eis requiem sempiternam.

VII. Lux aeterna

Lux aeterna luceat eis, Domine,
cum sanctis tuis in aeternum,
quia pius es.
Requiem aeternam
dona eis, Domine,
et lux perpetua luceat eis.

VIII. Libera me

Libera me, Domine,
de morte aeterna,
in die illa tremenda,
quando coeli
movendi sunt et terra,
dum veneris judicare
saeculum per ignem.
Tremens factus sum ego et timeo
dum discussio venerit
atque ventura ira,
quando coeli
movendi sunt et terra.
Dies illa, dies irae,
calamitatis et miseriae,
dies magna
et amara valde.
Requiem aeternam
dona eis, Domine,
et lux perpetua luceat eis.
Libera me, Domine,
de morte aeterna,
in die illa tremenda,
quando coeli
movendi sunt et terra
dum veneris judicare
saeculum per ignem.

IX. In Paradisum

In Paradisum
deducant Angeli in tuo
adventu suscipiant te Martyres
et perducant te in civitatem sanctam
Jerusalem.

Chorus Angelorum te suscipit
et cum Lazaro quondam paupere
aeternam habeas requiem.

English Translation


I. Introit

Eternal rest
give to them, O Lord,
and let perpetual light shine upon them.
A hymn, O God, becometh Thee in Zion,
and a vow shall be paid to Thee
in Jerusalem;
O Lord, hear my prayer,
all flesh shall come to Thee.
Eternal rest
give to them, O Lord,
and let perpetual light shine upon them.

II. Kyrie

Lord have mercy on us,
Christ have mercy on us.
Lord have mercy on us.

III. Domine Jesu Christe

O Lord Jesus Christ, King of glory,
deliver the souls of all the faithful
departed from the pains of hell
and from the deep pit;
Deliver them from the lion's mouth
that hell engulf them not,
nor they fall into darkness.

But that Michael,
the holy standardbearer,
bring them into the holy light,
which Thou once didst promise
to Abraham and his seed.
We offer Thee, O Lord,
sacrifices and prayers of praise;
do Thou accept them
for those souls
whom we this day commemorate;
grant them, O Lord,
to pass from death to the life
which Thou once didst promise
to Abraham and his seed.

III. Sanctus

Holy, Lord God of hosts.
The heavens and the earth
are full of Thy glory.
Hosanna in the highest.
Blessed is He Who cometh
in the name of the Lord.
Hosanna in the highest.

V. Pie Jesu

Gentle Lord Jesus,
grant them eternal rest.

VI. Agnus Dei

Lamb of God, Who takest away
the sins of the world:
grant them eternal rest

VII. Lux aeterna

May light eternal shine upon them, O Lord,
with Thy saints forever,
for Thou art kind.
Eternal rest
give to them, O Lord,
and let perpetual light shine upon them.

VIII. Libera me

Deliver me, O Lord,
from eternal death
on that dreadful day
when the heavens
and the earth shall be moved,
and Thou shalt come
to judge the world by fire.
I quake with fear and I tremble
awaiting the day of account
and the wrath to come,
when the heavens
and the earth shall be moved.
Day of mourning, day of wrath,
of calamity, of misery,
the great day,
and most bitter.
Eternal rest
give to them, O Lord,
and let perpetual light shine upon them.
Deliver me, O Lord,
from eternal death
on that dradful day
when the heavens
and the earth shall be moved,
and Thou shalt come
to judge the world by fire.

IX. In Paradisum

May the angels
receive them in Paradise,
at thy coming may the martyrs receive thee
and bring thee into the holy city
Jerusalem.

There may the chorus of angels receive thee,
and with Lazarus, once a beggar,
may thou have eternal rest.
Trinity Te Deum   Ēriks Ešenvalds
We praise thee, O God: we acknowledge thee to be the Lord.
All the earth doth worship thee, the Father everlasting.
To thee all Angels cry aloud: the Heavens, and all the Powers therein.
To thee Cherubim and Seraphim continually do cry,
Holy, Holy, Holy: Lord God of Sabaoth;
Heaven and earth are full of the Majesty of thy glory.
The glorious company of the Apostles praise thee.
The goodly fellowship of the Prophets praise thee.
The noble army of Martyrs praise thee.
The holy Church throughout the world doth acknowledge thee;
The Father of an infinite Majesty;
Thine honourable, true and only Son;
Also the Holy Ghost, the Comforter.
Thou art the King of Glory,
O Christ, Thou art the everlasting Son of the Father.
When thou tookest upon thee to deliver man,
thou didst not abhor the Virgin's womb,
When thou hadst overcome the sharpness of death,
thou didst open the Kingdom of Heaven to all believers.
Thou sittest at the right hand of God in the glory of the Father.
We believe that thou shalt come to be our Judge.
We therefore pray thee, help thy servants,
whom thou hast redeemed with thy precious blood.
Make them to be numbered with thy Saints in glory everlasting.
Holy, Holy, Holy
Shout For Joy   Adolphus Hailstork
Psalm 33: 1-11, 20-22
Shout!
Alleluia
Shout! Shout!
Shout! Shout for joy, all ye righteous.
Give thanks to the Lord,
Give thanks to the Lord rejoice.
Rejoice. Rejoice. Hallelujah!
Sing Him psalms,
Shout in triumph,
Praise the Lord,
Shout for Joy!
Shout! For joys all ye righteous!
Shout!Sing to the Lord a new song.
The word of the Lord holds true,
And all his work endures.
His love never failing fills the earth,
The word of the Lord holds true.
The word of the Lord made the sky,
And my Lord made the sea.
He spoke, and the world came to be,
And the word of the Lord made me.
The Lord is our help and our shield.
We put our faith in Him.
At the sound of his voice our hearts rejoice.;
The word of the Lord holds true.
Give thanks to the Lord.
Rejoice! Hallelujah!
Sing Him psalms,
Shout in triumph,
Praise the Lord,
Shout for Joy!
Shout! Alleluia! Shout!
Chorus
Soprano

Blessing Agunwamba
Rose Ananthanayagam
Gail Balog
Stephanie Brown
Rebecca Carroll
Dorothy Cassimatis
Sally Chrisman
Sidnee Curtis
Sandra Black Duffy
Christine Elsner
Angel Gardner
Candus Hedberg
Jan Johnson
Carol Johnston
Jane Kleindienst
Kathy Korwin
Maureen Kyle
Teri Lindstrom
Carol K. McCollough
Noël McCormick
Marjorie Morse
Sandra Noyelle
Caroline Phinney
Blythe Quelin
Jody Stebbins
Marilee Thompson
Peggy Waldron
Norah Wasden
Regina Williams
Tasneem Yusufali

Tenor

Samuel Denler
Gary Gregg
Jonathan Hartwell
Alfred Kleindienst
Jason Matthews
Fred Millner
Larry Parker
Kevin Schneider
Ralph Slaght
Dan Spira
Martin Wheelwright

Alto

LaVerna Albury
Erica Townsend Appel
Janet Breslin
Elly Sparks Brown
Elaine R. Clisham
Libby Crowley
Linda Gardner
Louise Gross
Joyce Irwin
Olga Kronenberg
Carolyn P.  Landis
Susan Metz
Dianne D. Miles
Kim Elaine Neighbor
Jean Parsons
Fran Perlman
Ellen Petrone
Karen Repka
Susan Sumutka
Ravenna Taylor
Becky Worrell

Bass

Charles Appel
John Couch
Bruce Duffy
Richard Farris
Kenny Litvack
Lucien S. Marchand
Bernard J. McMullan
Gerald Metz
Brian Newhouse
Gahan Pandina
Robert Phinney
Dudley Rice
Michael Stebbins
Charles A.M. Tompkins
Jeff Winik
Orchestra
Violin 1

Nanae Iwata
   Concertmaster
Uli Speth
   The Frank L. Biletsky Chair
Xinou Wei
William Barney Stevens
Yu Ouyang
Sayuri Lyons

Violin 2

Marina Fragoulis
Courtney Orlando
Elzbieta Winnicka
Mioi Takeda
Lisa Batchelder

Viola

Ana Tsinadze
Denise Cridge
Alexandra Honigsberg
Alexander Rees
Kristina Giles

Cello

David Heiss
Peter Prosser
Dan Barrett
Clay Ruede

Bass

Tony Falanga
Dennis Masuzzo

Trumpet

Max Morden
John Lambert
Charles Bumcrot

Trombone

Lars Wendt
Johannes Pfannkuch
James Borowski

Timpani

Mika Godbole

Harp

Elizabeth Steiner

Organ

Eric Plutz

Personnel Manager

William Trigg
Acknowledgements
Princeton Pro Musica wishes to thank the following individuals and organizations for providing their special help:
Allegra Print & Marketing
Discover Jersey Arts
New Jersey State Council on the Arts
Princeton Area Community Foundation
Princeton Mercer Regional Chamber of Commerce
The Staff of Princeton University
Princeton University Office of Religious Life
We are very grateful for the work of our Fundraising Committee, who re-launched our annual event with great success in April, 2022: Carol Johnston, Chair; Chuck Appel, Erica Appel, Dottie Cassimatis, Claudia Classon, Billy Ford, Jan Johnson, Maureen Kyle, Dee Dee Miles
Support Staff Volunteers
VOLUNTEER COORDINATOR
Janet Breslin
BOOKKEEPER
Maureen Kyle
CONCERT MANAGER
Dianne D. Miles
DIGITAL PROGRAM
Dianne D. Miles
CHAMBER CHORUS COORDINATOR
Fran Perlman
MUSIC COORDINATOR
Kim Neighbor
SECTION LEADERS
Candus Hedberg, soprano
Kim Neighbor, alto
Gary Gregg, tenor
Richard Farris, bass
WEBMASTER
Kenny Litvack
CONCERT HOUSE STAFF
Box Office
Kevin Dziuba
Ushers
Janet Perkins
Peter Julius
Wavanie Mouko
Vaccine Checkers
Lisa Dacuk-Julius
Don Worrell
Walter Dixon
Judie Winik
Concert Set Up (it takes a village!)
Chuck Appel
John Cassimatis
Sally Chrisman
Elaine Clisham
Richard Farris
Louie Gross
Joyce Irwin
Dave Johnson
Jan Johnson
Al Kleindienst
Jane Kleindienst
Kathy Korwin
Carolyn Landis
Jason Matthews
Bernard McMullan
Ellen Petrone
Fran Perlman
Dudley Rice
Dan Spira
Ravenna Taylor
Chuck Taylor
Tasneem Yusufali