PPM Collaborative Keyboard Artist Releases Recording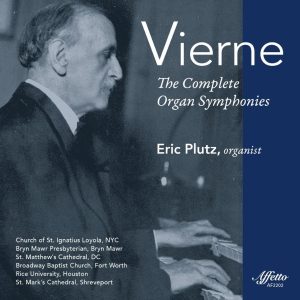 For more than a decade, we at Princeton Pro Musica have been fortunate to count Eric Plutz among our artistic staff. An organist of the highest caliber, Eric sits faithfully on the piano bench each Tuesday evening, bringing to life orchestral reductions with precision and sensitive musicality. It is with this sense of respect and admiration that we are pleased to bring to your attention Eric's recently-released recording: Vierne: The Complete Organ Symphonies.
Recorded on six different organs in six locations across the U.S., this landmark album represents more than ten years of dedicated focus. In Eric's own words:
"After so many years, I can hardly believe it … I've listened to these recordings more times than you can imagine, and what I love most is that each venue and instrument sounds different, yet (I hope!) true to Vierne's intentions."
We are so happy for Eric, and encourage you to purchase this outstanding set of recordings!
Vierne: The Complete Organ Symphonies are available:
Enjoy this extended talk by Eric for a more in-depth perspective: