Celebrating Morten Lauridsen at 80
Celebrating Morten Lauridsen at 80
Eric Plutz, organ
MAY 6, 2023
4:00 p.m.
Princeton University Chapel
Celebrating Morten Lauridsen at 80
Eric Plutz, organ
MAY 6, 2023
4:00 p.m.
Princeton University Chapel
Click above to listen to the Director's Notes
Use Up/Down Arrow keys to increase or decrease volume.
O the land of cloudless days,
     O the land of an unclouded sky,
          O  they tell me of a home where no storm clouds rise:
               O they tell me of an unclouded day. 
Imagine standing beneath a perfectly clear sky that stretches beyond all bound and feeling your focus yield to its azure endlessness as your body warms, welcoming, unimpeded, unfiltered, the source of all life: light. All living things seem to share some version of this experience. Alpine forests sprout skyward from impossibly steep terrain in perfect verticality to try to touch the sky. Our pets instinctively nestle on sun-warmed sills and bed corners. For humankind, for as long as light has warmed our existence, its significance has been not just physical but also psychic and spiritual. The imagery and symbolism of light and dark pervade secular myth from the sun deities of polytheistic pantheons to Star Wars. Homer's Odyssey imagines the gods' home at Mt. Olympus "[abiding] in everlasting sunshine and in a great peacefulness of light, wherein the blessed gods are illumined for ever and ever." Some eight centuries after Homer, light imagery appeared widely in early Christian texts. Unsurprisingly, structures related to spiritual practice have, since the first, been oriented to exploit the changing nature of light as it waxes and wanes through days and seasons. Builders of the Middle Ages famously innovated ways to increase the height of cathedrals and expand the size of their windows for artisans' ever more dazzling displays that stun us still, even in our age of LED blare and pixelated digital overstimulation. (The cover of our music book for this concert, even, is an image of the rose window of Chartres). Creators of music, too, have sought to capture the essence and effect of light in their art. 
The central work on today's program is Morten Lauridsen's Lux Aeterna (light eternal). Written in response to his mother's final illness and passing, Lux Aeterna brought Lauridsen "great comfort and solace in setting to music [these] timeless and wondrous words about Light, a universal symbol of illumination at all levels—spiritual, artistic, and intellectual."
Few living American composers have captured the imaginations of singers and listeners so completely as Lauridsen has, and even if we weren't honoring his 80th birthday, his contribution to choral music would be worthy of a celebration. With his works of the mid 1990s he changed the soundscape of American choral music and rekindled enthusiasm among choruses of all kinds. 1994's O Magnum Mysterium, in particular, introduced an approach to harmony and voicing in choral music that caught the attention and admiration of singers and audiences alike. Though some of his works bear *almost* too close a resemblance to one another with respect to harmony, one can't deny that this gentle, ingenious composer has hit on something peculiarly effective. 
That something stymies our best attempts to define it. It's ridiculous to describe a sonic medium with photonic adjectives. Nevertheless, since their premieres, O Magnum Mysterium and Lux Aeterna have garnered descriptors such as "luminous" and "shimmering" and have been deemed to bear an "inner radiance." Lauridsen's harmonies make synesthetes of even the most linguistically scrupulous among us. In rehearsal, I asked the chorus, "what is the sound of this music?" Alto Melissa Kettner gave my favorite, and the most evocative, answer: "it's the sound clouds would make if they could sing." 
The first choral entry in Lux Aeterna provides a characteristic example. A broad and searching introduction establishes, with a deep, low D pedal tone and some gently arcing melodies, the prevailing D major sonority. For the choir's first entry, rather than voice its chord from the root up, planted firm, with both feet on the ground, Lauridsen sets the chord in inversion, afloat, the main note nestled in the middle of the chord, obscured slightly by an extra "non-chord tone" tucked right up against it. As the choir chants through the opening lyric, its sound floats and morphs as a cloud would, shifting slowly, kaleidoscopically, its color translucent and iridescent. 
But the essence of Lauridsen's craft lay not just in these chords but in their harmony's relationship to musical line. He appreciates the inheritance of melodic gift from other American composers such as Barber and Randall Thompson:
I've always admired composers who know what to do with line, and those composers certainly did. I have composed a number of art songs as well, and I have a great love of the American musical theater-the music of Jerome Kern, Gershwin, Porter, Rodgers, and others. When I give talks about my music, I include those individuals alongside the great song-composers like Brahms, Schumann, and Schubert. The craft of composing elegant melodic lines—so many composers are simply afraid to write one, which I think is regrettable—is something I've been honing my entire life.
In Lux Aeterna he marshals his craft with the specific aim of evoking light:
In the Lux Aeterna I harken back to Renaissance procedures, especially those found in the music of Josquin and Palestrina, to set texts that center on the more serene symbol of light. The opening of the Lux Aeterna is like light emerging from the darkness, all against a double pedal in both the low and upper strings. The piece is meant to transport the listener to a place of inner peace, understanding, and enlightenment.
The composer outlines the multi-movement structure of his Lux Aeterna thusly:
The work opens and closes with the beginning and ending of the Requiem Mass, with the central three movements drawn respectively from the Te Deum, O Nata Lux, and Veni, Sancte Spiritus. The instrumental introduction to the Introitus softly recalls motivic fragments from two pieces especially close to my heart (my settings of Rilke's Contre Qui, Rose and O Magnum Mysterium) which recur throughout the work in various forms. Several new themes in the lntroitus are then introduced by the chorus, including an extended canon on et lux perpetua.

In Te, Domine, Speravi contains, among other musical elements, the cantus firmus "Herzliebster Jesu" (from the Nuremburg Songbook, 1677) and a lengthy inverted canon on "fiat misericordia." O Nata Lux and Veni, Sancte Spiritus are paired songs, the former an a cappella motet at the center of the work and the latter a spirited, jubilant canticle. A quiet setting of the Agnus Dei precedes the final Lux Aeterna, which reprises the opening section of the Introitus and concludes with a joyful celebratory Alleluia. 
Lauridsen noted elsewhere: "People want to hang on to an idea that ennobles them and gives them courage to carry on. So I simply went to write a beautiful piece on illumination." 
Today's concert celebrates another significant voice in American music: that of composer, pianist, and organist, Florence Price. Price held the honor of being the first African American female composer to have a symphony performed by a major American orchestra when the Chicago Symphony premiered her First Symphony at the World's Fair in 1933. Though she wrote more than 300 works, many of them lay undiscovered, or at least unknown to contemporary American audiences, until recently. Her work is now receiving the hearings it so richly deserves. The Philadelphia Orchestra, for instance, has championed her symphonies through performances and a GRAMMY-winning recording. Princeton Pro Musica is delighted to present one of her keyboard works in the hands of Princeton University Organist Eric Plutz, with the Suite for Organ No. 1, first premiered in 1942. The colorful, engaging suite unfolds in four sections: Fantasy, Fughetta, Air, and Toccata. The music bears hallmarks of Price's mature style, which melds into European formal structures African American musical elements: pentatonic melodies redolent of spirituals, jazz- and blues-influenced harmonies, and syncopated rhythms. 
As Lauridsen does, the American composer and songwriter Shawn Kirchner enjoys a longstanding relationship with the LA Master Chorale (including as a member of its tenor section). In 2010, that ensemble premiered his triptych, Heavenly Home. Kirchner's settings in Heavenly Home are fashioned from three American hymn tunes, each of which imagines heaven as a "home." "Hallelujah" plays on the circular, slippery nature of its pentatonic melody from the Sacred Harp hymnal, snaking it imitatively among the voice parts and embedding it within freely composed, fantasia-like material. At the heart of the work stands "Angel Band," William Bradury's beloved tune, set here within an eight-part, almost symphonic vocal texture. The familiar-sounding tune of Rev. J.K. Alwood's "Unclouded Day," spirited and optimistic, gallops along with a knee-slapping rhythmic energy, peaking as the singers imagine "a city that is made of gold."
For now, at least, none of us can confirm if such a city, such a heavenly home, exists. Until we do, these visions—of illumination, of enlightenment, of heaven—will remain vivid imagined experiences, dreamt-for possibilities. Ultimately, light and sound are both mediums borne on waves to which our bodies are exquisitely tuned, ready to catch before they fade away. Yet music's ephemerality is at once its limitation and its advantage. Of the countless magnificent musical works created before the invention of audio recording, all that remains is their silent blueprint. To behold their beauty and feel their warmth, they must be recreated, communally. While the clearest of blue skies, the most picturesque clouds, or the most perfectly prismatic beam of light passing through glass can inspire reflection and awe, the creation and appreciation of music helps us feel not just what lies beyond but what resonates between us.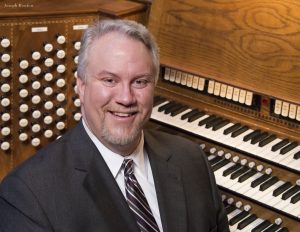 Eric Plutz, Collaborative Keyboardist, is University Organist at Princeton University, where his responsibilities include playing for weekly services at the Chapel, Academic Ceremonies, and solo concerts, as well as accompanying the Chapel Choir in services and concerts. He coordinates the weekly After Noon Concert Series at the University Chapel, is Lecturer in Music and Instructor of Organ at Princeton University, and maintains a private studio. Also in Princeton, Mr. Plutz is Collaborative Keyboardist for Princeton Pro Musica. In 2016 Mr. Plutz received the Alumni Merit Award from Westminster Choir College. More information is available at www.ericplutz.com.
In celebration of Louis Vierne's 150th birthday in 2020, Eric initiated The Vierne Project; performances of the complete organ symphonies. One of a handful of organists to embark on such a venture, he performed in Beverly Hills (CA), Durham (NC), Minneapolis (MN), Lancaster and Reading (PA), Ithaca (NY), Houston (TX), Evanston (IL), Portland (OR), and Olympia (WA). A CD recording of the symphonies on six different instruments was released in 2022.
As an organ concert soloist, Mr. Plutz, who "performs with gusto, flair, clarity, and strong yet pliant rhythmic control (James Hildreth for The American Organist)," has accepted engagements in distinguished locations across the United States and abroad including Germany, Austria, Philadelphia (Verizon Hall, the Wanamaker Organ, Longwood Gardens), New York City (Avery Fisher Hall, Church of St. Ignatius Loyola, Cathedral of St. John the Divine), Washington, DC (Washington National Cathedral), and San Francisco (Grace Cathedral). He has been a featured artist at three Regional Conventions of the American Guild of Organists (2007, 2011, and 2019), the Annual Convention of the Organ Historical Society (2016), and at the 2010 National AGO Convention in Washington, DC, Mr. Plutz performed twice, in collaboration with two local groups. His playing has been broadcast on "With Heart and Voice," "Pipedreams," and "the Wanamaker Organ Hour."
Eric has made four solo recordings on the Pro Organo label, www.proorgano.com.  French Trilogy (on the Æolian-Skinner Organ at Byrnes Auditorium, Winthrop University, Rock Hill, SC), about which James Reed (The Diapason) wrote, "Plutz is a master craftsman… his performances are sensitive, emotional, stunningly accurate, and spectacularly musical… truly a world-class performance by a world-class musician," and Denver Jubilee (restored 1938 Kimball Organ of St. John's Episcopal Cathedral, Denver, CO), about which David Schwartz (American Record Guide) wrote, "….he understands, as would a great orchestrator, how to register the more orchestral side of the instrument…."
Two previous recordings are of the Princeton University Chapel Organ: Musique Héroïque and Carnival, about which Mr. Hildreth (TAO) writes, "Plutz's extraordinary musicianship and dexterous command allow him to perform the most challenging passages (of which there are many!) with apparent ease.  He performs the quiet pieces with poetry and grace."
From 2005 to 2020, Mr. Plutz was rehearsal accompanist for the Westminster Symphonic Choir at Westminster Choir College. Additionally, he has worked with many organizations, including The Bach Choir of Bethlehem, National Symphony Orchestra, Choral Arts Society of Washington, and the Cathedral Choral Society (DC). As a teacher, he held the position of Adjunct Assistant Professor of Organ at Westminster Choir College three separate times.
Originally from Rock Island, Illinois, Mr. Plutz earned a Bachelor of Music degree, magna cum laude, from Westminster Choir College and a Master of Music degree from the Eastman School of Music. Additional study consists of two visits to Europe: in 2005, he studied the complete organ works of César Franck with Marie-Louise Langlais in Paris, and in 2019 he studied the complete organ symphonies of Louis Vierne with Ben van Oosten in The Hague, Netherlands.
(To optimize view, rotate mobile devices to landscape orientation)
Heavenly Home
Shawn Kirchner (1970)

1. Hallelujah
Text by Charles Wesley, 1759
Music by William Walker, 1835
Adapted and arranged by Shawn Kirchner
Hallelujah, Hallelujah
And let this feeble body fail,
And let it faint or die;
My soul shall quit this mournful vale,
And soar to worlds on high.
And I'll sing hallelujah,
And you'll sing hallelujah,
And we'll all sing hallelujah,
When we arrive at home.
O what are all my suffr'ings here,
If Lord, thou count me meet,
With that enraptured host to appear.
And worship at thy feet!
And I'll sing hallelujah,
And you'll sing hallelujah,
And we'll all sing hallelujah,
When we arrive at home.
Give joy or grief, give ease or pain,
Take life or friends away,
But let me find them all again
In that eternal day.
And I'll sing hallelujah,
And you'll sing hallelujah,
And we'll all sing hallelujah,
When we arrive at home.
2. Angel Band
Text by Jefferson Hascal, 1860
Song tune by William Bradbury, 1862
Adapted and arranged by Shawn Kirchner
The latest sun is sinking fast,
My race is almost run,
My strongest trials now are past,
My triumph is begun.
O, come, angel band,
Come and round me stand,
Bear me away on your snow white wings
To my immortal home.
I know I'm near the holy ranks
Of friends and kindred dear,
I've brushed the dew on Jordan's banks,
The crossing must be near.
O, come, angel band,
Come and round me stand,
Bear me away on your snow white wings
To my immortal home.
I've almost gained my heavenly home,
My spirit loudly sings,
The Holy Ones, behold they come,
I hear the noise of wings.
O, come, angel band,
Come and round me stand,
Bear me away on your snow white wings
To my immortal home.
3. Unclouded Day
Words and Music by Rev. J.K. Alwood (1828-1909)
Arranged by Shawn Kirchner
O they tell me of a home far beyond the skies,
They tell me of a home far away,
And they tell me of a home where no storm clouds rise:
O they tell me of an unclouded day.
O the land of cloudless days,
O the land of an unclouded sky,
O they tell me of a home where no storm clouds rise:
O they tell me of an unclouded day.
O they tell me of a home where my friends have gone,
They tell me of a land far away,
Where the tree of life in eternal bloom
Sheds its fragrance through the unclouded day.
O the land of cloudless days,
O the land of an unclouded sky,
O they tell me of a home where no storm clouds rise:
O they tell me of an unclouded day.
O they tell me of a King in His beauty there,
They tell me that mine eyes shall behold,
Where He sits on a throne that is bright as the sun
In the city that is made of gold.
O the land of cloudless days,
O the land of an unclouded sky,
O they tell me of a home where no storm clouds rise:
O they tell me of an unclouded day.
Lux Aeterna
Morten Lauridsen (1943)
I. Introitus
Requiem aeternam dona eis, Domine:
et lux perpetua luceat eis.
Te decet hymnus Deus in Zion,
et tibi redetur votum
in Jerusalem:
Exaudi orationem meam,
ad te omni caro veniet.
Requiem aeternam dona eis, Domine:
et lux perpetua luceat eis.
Rest eternal grant to them, O Lord,
and let perpetual light shine upon them.
A hymn befits thee, O God in Zion,
and to thee a vow shall be fulfilled
in Jerusalem:
Hear my prayer,
for unto thee all flesh shall come.
Rest eternal grant to them, O Lord,
and Let perpetual light shine upon them.
II. In Te, Domine, Speravi
Tu ad liberandum suscepturus hominem
non horruisti Virginis uterum.
Tu devicto mortis aculeo,
aperuisti credentibus regna coelorum.
Exortum est in tenebris lumen rectis.
Miserere nostri, Domine,
miserere nostri.
Fiat misericordia tua, Domine, super nos
quemadmodum speravimus in te.
In te Domine, speravi:
non confundar in aeternum.
To deliver us, you became human,
and did not disdain the Virgin's womb.
Having blunted the sting of death, You
opened the kingdom of heaven to all believers.
A light has risen in the darkness for the upright.
Have mercy upon us, O Lord,
have mercy upon us.
Let thy mercy be upon us, O Lord,
as we have trusted in thee.
In thee, O Lord, I have trusted:
let me never be confounded
III. O Nata Lux
O nata lux de lumine,
Jesu redemptor saeculi,
dignare clemens supplicum
laudes preces que sumere.
Qui carne quondam contegi
dignatus es pro perditis.
Nos membra confer effici,
tui beati corporis.
O born light of light,
Jesus, redeemer of the world,
mercifully deem worthy and accept
the praises and prayers of your supplicants.
Thou who once deigned to be clothed in flesh
for the sake of the lost ones,
grant us to be made members
of your holy body.
IV. Veni, Sancte Spiritus
Veni, Sencte Spiritus,
Et emitte coelitus
Lucis tuae radium.
Veni, pater pauperum,
Veni, dator munerum,
Veni, lumen cordium.
Consolator optime,
Dulcis hospes animae,
Dulce refrigerium.
In labore requies,
In aestu temperies,
In fletu solatium.
O lux beatissima,
Reple cordis intima
Tuorum fidelium.
Sine tuo numine,
Nihil est in homine,
Nihil est innoxium.
Lava quod est sordidum,
Riga quod est aridum,
Sana quod est saucium.
Flecte quod est rigidum,
Fove quod est frigidum,
Rege quod est devium.
Da tuis fideliubus,
In te confidentibus,
Sacrum septenarium.
Da virtutis meritum,
Da salutis exitum,
Da perenne gaudium.
Come, Holy Spirit,
Send forth from heaven
The ray of thy light.
Come, Father of the poor,
Come, giver of gifts,
Come, light of hearts.
Thou best of Consolers,
Sweet guest of the soul,
Sweet refreshment.
In labor, thou art rest,
In heat, the tempering,
In grief, the consolation.
O Light most blessed,
Fill the inmost heart
Of all thy faithful.
Without your grace,
There is nothing in us,
Nothing that is not harmful.
Cleanse what is sordid,
Moisten what is arid,
Heal what is hurt,
Flex what is rigid,
Fire what is frigid,
Correct what goes astray.
Grant to thy faithful,
Those trusting in thee,
Thy sacred seven-fold gifts.
Grant the reward of virtue,
Grant the deliverance of salvation,
Grant everlasting joy.
V. Agnus Dei - Lux Aeterna
Agnus Dei,
qui tollis peccata mundi,
dona eis requiem.
Agnus Dei,
qui tollis peccata mundi,
dona eis requiem.
Agnus Dei,
qui tollis peccata mundi,
dona eis requiem sempiternam.
Lux aeternam luceat eis, Domine:
Cum sanctis tuis in aeternum:
quia pius es.
Requiem aeternam dona eis, Domine,
Et lux perpetua luceat eis.
Alleluia. Amen.
Lamb of God,
who takest away the sins of the world,
grant them rest.
Lamb of God,
who takest away the sins of the world,
grant them rest.
Lamb of God,
who takest away the sins of the world,
grant them rest everlasting.
May light eternal shine upon them, O Lord,
in the company of thy Saints for
ever and ever; for thou art merciful.
Rest eternal grant to them, O Lord,
and let perpetual light shine upon them.
Alleluia. Amen.
SOPRANO

Blessing Agunwamba
Rose Ananthanayagam
Gail Balog
Thelma Boamah
Stephanie Brown
Dorothy Cassimatis
Sandra Black Duffy
Candus Hedberg
Monica Hernandez
Jan Johnson
Judith Johnston
Carol Johnston
Yvonne Kemps
Kimberlynn Kleasen
Jane Kleindienst
Kathy Korwin
SoonMi Kwon
Maureen Kyle
Carol K. McCollough
Juliane Michelis
Marjorie Morse
Sandra Noyelle
Kathleen Spoto
Jody Stebbins
Marilee Thompson
Peggy Waldron
Norah Wasden

TENOR

Timothy Carpenter
Samuel Denler
Wolfgang Elsner
Billy Ford
Gary Gregg
Jonathan Hartwell
Daniel Kanhofer
Alfred Kleindienst
Jason Matthews
Fred Millner
Larry Parker
Ralph Slaght
Dan Spira
Mike Williams

ALTO

LaVerna Albury
Erica Townsend Appel
Brenda Berger
Janet Breslin
Elaine R. Clisham
Libby Crowley
Lisa Dacuk-Julius
Linda Gardner
Ellen Harrison
Joyce Irwin
Melissa Kettner
Olga Kronenberg
Carolyn P. Landis
Susan Metz
Dianne D. Miles
Kim Elaine Neighbor
Mineko Ogata
Jean Parsons
Janet Perkins
Fran Perlman
Ellen Petrone
Rebecca Phillips
Karen Repka
Susan Sumutka
Ravenna Taylor
Marie-Diane Tenney

BASS

Chuck Appel
Bruce Bush
John Couch
Bruce B Duffy
Richard Farris
Ian Highcock
Kenny Litvack
Don Livingston
Lucien S. Marchand
Brian Newhouse
Gahan Pandina
Charlie Repka
Dudley Rice
Greg Sarjeant
Michael Stebbins
Charles A.M. Tompkins
ACKNOWLEDGEMENTS 
Princeton Pro Musica wishes to thank the following individuals and organizations for providing their special help:
Discover Jersey Arts
New Jersey State Council on the Arts
Princeton Area Community Foundation
Princeton Regional Chamber of Commerce
Robert Bullington, Front Row Productions
Innvoke ⧫ Print & Marketing Solutions
The Staff of the Princeton University Chapel
VOLUNTEER COORDINATOR
Janet Breslin
BOOKKEEPER
Maureen Kyle
CONCERT MANAGER
Dianne D. Miles
DIGITAL PROGRAM
Dianne D. Miles
CHAMBER CHORUS COORDINATOR
Fran Perlman
MUSIC COORDINATOR
Kim Neighbor
SECTION LEADERS
Candus Hedberg, soprano
Kim Neighbor, alto
Gary Gregg, tenor
Richard Farris, bass
WEBMASTER
Kenny Litvack
CONCERT HOUSE STAFF
Box Office
Kevin Dziuba
RISER CREW
Chuck Appel
Brenda Berger
John Cassimatis
Billy Ford
Dave Johnson
Melissa Kettner
Al Kleindienst
Kathy Korwin
Carolyn Landis
Jason Matthews
Mineko Ogata
Rebecca Phillips
Dudley Rice
Greg Sarjeant
Marie-Diane Tenney
Chuck Tompkins