A message from our Executive Director

Dear friends,
On October 28, 2012, Ryan Brandau and I stood outside the stage entrance in Richardson Auditorium, wondering if people would really come to the Princeton Pro Musica concert, Ryan's debut with PPM. Residents of the East Coast were awaiting the landfall of Hurricane Sandy, and many had already evacuated. We were relieved when we saw people entering the hall, some even standing in line for tickets. The concert happened. Sandy landed the next day.
In the decade since his debut Ryan has led Princeton Pro Musica to major milestones:
winning two American Prize awards
the creation of two wildly successful, sold-out productions of Carmina Burana with original, commissioned dance
showcasing soloists who are now Grammy winners, opera stars, and leaders in the fields of choral and vocal performance
producing an award-winning video to celebrate PPM's 40th anniversary
…and the list goes on!
Ryan's second decade of artistic leadership began on October 23, 2022 with the enduring Ein deutsches Requiem by Johannes Brahms. As Ryan wrote so eloquently in his program notes:
"The years since [2017, his first PPM Brahms Requiem] have been shadowed by a global wave of grief and widespread strife. We have no magic wand to wave. But, for me, at least, Ein deutsches Requiem resonates and comforts more than ever before. . . In light of the uncertainty that surrounds us, how fortunate we are that this deeply layered work of art exists, whenever and however we need it."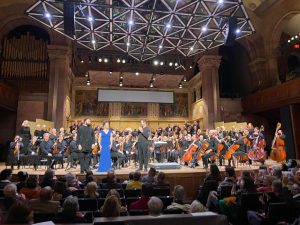 PPM is grateful to have survived the pandemic. While Ryan kept the chorus in tip-top vocal shape virtually, many others helped ensure our fiscal health. With significant support from the federal Shuttered Venue Operators Grant program, and the remarkable generosity of individual donors, we have been able to pursue our mission unabated. For the first time since 2019, we are thrilled to present a full subscription season of choral favorites to fill your heart and soul, and we gratefully acknowledge that we simply wouldn't be here without you.
You have recognized Princeton Pro Musica as unique among choruses in the region. You have told us there is nothing quite like the sound of a large chorus joined in harmony with a professional orchestra. You have enthusiastically supported Ryan as a conductor who is singularly gifted in leading both choral and orchestral forces with vision and excellence.
The best of PPM is yet to come, and we can only bring it to you with your support. Please consider making a gift to Princeton Pro Musica today.
Board president and longtime soprano, Jan Johnson, sums it up best:
"One of the things that makes PPM so special is this group of people who have such a strong commitment, take the music very seriously, and work very hard. The rewards are commensurate with the effort. People don't have to go to New York or Philadelphia to hear top-quality performances!"
We thank you in advance for your continued support of Princeton Pro Musica and hope to see you in the concert hall soon!
With warmest regards,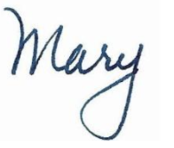 Mary Trigg
Executive Director, Princeton Pro Musica