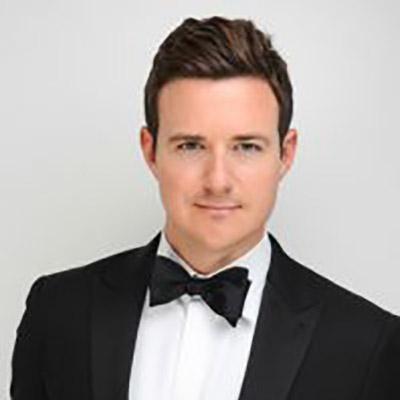 Ryan James Brandau
Artistic Director
Ryan James Brandau is a conductor and arranger based in New York City. At present, he is the Artistic Director of three ensembles: Amor Artis, a 40-voice chamber choir and baroque orchestra that specializes in Renaissance, Baroque, and Contemporary music; Princeton Pro Musica, a 100-voice symphonic chorus and orchestra; and the Monmouth Civic Chorus, a 100-voice symphonic chorus.
Equally at home leading choruses and orchestras, Dr. Brandau has established a reputation for incisive interpretations and dynamic, uplifting performances. His repertoire spans the Renaissance and Baroque, contemporary music, and the full canon of large-scale choral-orchestral masterworks. An innovative programmer, he has, in addition to presenting masterworks, delighted audiences with concert programs that compellingly combine lesser-known choral-orchestral works with complementary instrumental works or present Baroque music in dialogue with contemporary works. A passionate advocate of historically-informed performance, Dr. Brandau frequently performs with the finest Baroque specialists in New York City and regularly presents works by J.S. Bach, Handel, Monteverdi, and others.
As an orchestral and choral arranger, he has created many works for his and others' ensembles. Each December thousands of audience members around the globe have their ears delighted and their hearts warmed by his beautifully-crafted, stirring holiday arrangements, lauded by MET Opera cellist David Heiss as "inventive . . . unfailingly gratifying . . . in a class by themselves.".
He is a host of Sounds Choral, an hour-long radio program on WWFM, the Classical Network, and his essays and program notes have been featured by a variety of ensembles.
Additionally, Dr. Brandau prepared the Philadelphia Symphonic Choir for performances with the Philadelphia Orchestra which, sung through masks, were hailed as "quite strong … unified—yet finely colored." (Philadelphia Inquirer). He served on the faculty of Westminster Choir College, where he taught graduate choral literature and prepared the Westminster Symphonic Choir for performances with the Berlin Philharmonic, Philadelphia Orchestra, Vienna Philharmonic, New York Philharmonic, and the New Jersey Symphony Orchestra, with conductors such as Yannick Nezet-Seguin, Simon Rattle, and Daniel Barenboim. He was previously Director of Choral Activities at Santa Clara University, Artistic Director of the Santa Clara Chorale, Artistic Director of Musae, Assistant Director of Choral Activities at Smith College, and Choirmaster of the acclaimed all-professional choir of Christ Church, New Haven.
Dr. Brandau is committed to collaboration with other artists and with educational organizations. Recent seasons' highlights have included presenting Handel's Solomon with New York Baroque, Inc.; creating a multimedia presentation of Carmina Burana with the Roxey Ballet; and featuring on subscription concerts the singing of the Princeton Girlchoir, the Trenton Children's Chorus, the New Jersey Youth Chorus, and top high school choral ensembles.
He received the Master of Music and the Doctor of Musical Arts degrees from the Yale School of Music, where was awarded the Dean Horatio Parker Prize. Prior to pursuing graduate study in conducting, he was selected as a Gates Scholar to attend the University of Cambridge in the UK, earning an MPhil in historical musicology. He received his B.A. in music, magna cum laude, Phi Beta Kappa, from Princeton University.
He lives in New York City with his husband, Ian, and his dog, Tux.