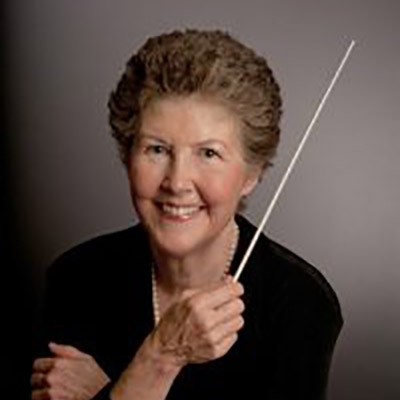 Frances Fowler Slade
Artistic Director Emerita
Frances Fowler Slade, Artistic Director Emeritus of Princeton Pro Musica, founded Princeton Pro Musica in 1979 and led the ensemble with distinction until 2012. As a choral-orchestral conductor, she earned a reputation for achieving high musical standards and presenting adventuresome programming. She specializes in the great choral-orchestral masterworks of the past and new works by American composers. She also conducts purely orchestral compositions. She has made substantial contributions to music education, presenting many concerts in schools over the years and involving young people in concerts.
Ms. Slade was a member of the choral faculty at Rutgers University in New Brunswick from 1986 through May, 1998. She has conducted choral groups at Wellesley College, Northwestern University, William Rainey Harper College, Raritan Valley College and Westminster Choir College of Rider University. She has also conducted the St. Paul Chamber Orchestra, the Virtuosi of London, and the Teplicé Philharmonic of the Czech Republic. She has been Music Director at All Saints Church, Princeton, and Grace Lutheran Church, Trenton.
She has prepared choruses for the New Jersey Symphony, the Opera Orchestra of New York, and New York's Concert Royal, as well as the Westfield Symphony, the Princeton Chamber Symphony, the Greater Trenton Symphony, and the Delaware Valley Philharmonic.
Slade was named Woman of Distinction in the Arts by New Jersey's Delaware-Raritan Girl Scout Council. She was awarded the Douglass Medal for outstanding service to the Douglass College community. She is a recipient of the Princeton YWCA Tribute to Women and Industry Award.
Slade, a native of Atlanta, holds degrees from Wellesley College and Northwestern University. She has done postgraduate work at Rutgers University and Westminster Choir College.