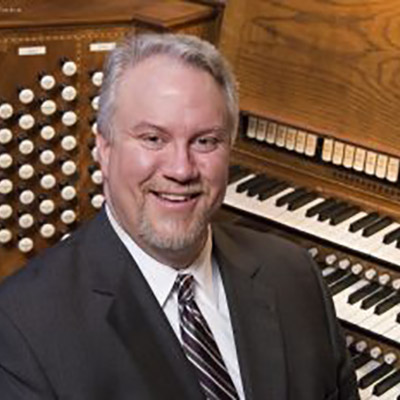 Eric Plutz
Collaborative Keyboardist
Eric Plutz, Collaborative Keyboardist, is University Organist at Princeton University, where his responsibilities include playing for weekly services at the Chapel, Academic Ceremonies, and solo concerts, as well as accompanying the Chapel Choir in services and concerts. He coordinates the weekly After Noon Concert Series at the University Chapel, is Lecturer in Music and Instructor of Organ at Princeton University, and maintains a private studio. Also in Princeton, Mr. Plutz is Collaborative Keyboardist for Princeton Pro Musica. In 2016 Mr. Plutz received the Alumni Merit Award from Westminster Choir College. More information is available at www.ericplutz.com. 
In celebration of Louis Vierne's 150th birthday in 2020, Eric initiated The Vierne Project; performances of the complete organ symphonies. One of a handful of organists to embark on such a venture, he performed in Beverly Hills (CA), Durham (NC), Minneapolis (MN), Lancaster and Reading (PA), Ithaca (NY), Houston (TX), Evanston (IL), Portland (OR), and Olympia (WA). A CD recording of the symphonies on six different instruments was released in 2022.
As an organ concert soloist, Mr. Plutz, who "performs with gusto, flair, clarity, and strong yet pliant rhythmic control (James Hildreth for The American Organist)," has accepted engagements in distinguished locations across the United States and abroad including Germany, Austria, Philadelphia (Verizon Hall, the Wanamaker Organ, Longwood Gardens), New York City (Avery Fisher Hall, Church of St. Ignatius Loyola, Cathedral of St. John the Divine), Washington, DC (Washington National Cathedral), and San Francisco (Grace Cathedral). He has been a featured artist at three Regional Conventions of the American Guild of Organists (2007, 2011, and 2019), the Annual Convention of the Organ Historical Society (2016), and at the 2010 National AGO Convention in Washington, DC, Mr. Plutz performed twice, in collaboration with two local groups. His playing has been broadcast on "With Heart and Voice," "Pipedreams," and "the Wanamaker Organ Hour."
Eric has made four solo recordings on the Pro Organo label, www.proorgano.com.  French Trilogy (on the Æolian-Skinner Organ at Byrnes Auditorium, Winthrop University, Rock Hill, SC), about which James Reed (The Diapason) wrote, "Plutz is a master craftsman… his performances are sensitive, emotional, stunningly accurate, and spectacularly musical… truly a world-class performance by a world-class musician," and Denver Jubilee (restored 1938 Kimball Organ of St. John's Episcopal Cathedral, Denver, CO), about which David Schwartz (American Record Guide) wrote, "….he understands, as would a great orchestrator, how to register the more orchestral side of the instrument…." 
Two previous recordings are of the Princeton University Chapel Organ: Musique Héroïque and Carnival, about which Mr. Hildreth (TAO) writes, "Plutz's extraordinary musicianship and dexterous command allow him to perform the most challenging passages (of which there are many!) with apparent ease.  He performs the quiet pieces with poetry and grace." 
From 2005 to 2020, Mr. Plutz was rehearsal accompanist for the Westminster Symphonic Choir at Westminster Choir College. Additionally, he has worked with many organizations, including The Bach Choir of Bethlehem, National Symphony Orchestra, Choral Arts Society of Washington, and the Cathedral Choral Society (DC). As a teacher, he held the position of Adjunct Assistant Professor of Organ at Westminster Choir College three separate times.
Originally from Rock Island, Illinois, Mr. Plutz earned a Bachelor of Music degree, magna cum laude, from Westminster Choir College and a Master of Music degree from the Eastman School of Music. Additional study consists of two visits to Europe: in 2005, he studied the complete organ works of César Franck with Marie-Louise Langlais in Paris, and in 2019 he studied the complete organ symphonies of Louis Vierne with Ben van Oosten in The Hague, Netherlands.